ABCD reaches 1000 people in Bangladesh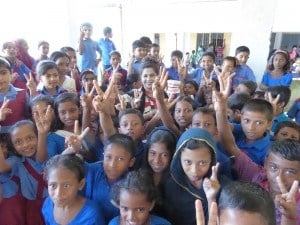 The ABCD (AusBangla Care for Dental) Program reached more than 1000 people during the recent team visits in September. The full report tells the whole story.
Four dentists from Australia – Drs Nahid Sayma and Sandra Meihubers (TT), along with Drs Hans Raets and Yvonne Huijser van Reenen – worked with the Bangla teams to visit 2 schools in the Mirpur slum area in Dhaka, and 4 schools in rural locations in Brahmanbaria and Sylhet.
More than 400 people, mainly school children, received necessary dental treatment with most people receiving several dental procedures.  Oral hygiene advice was provided to all.  The Australian dental team introduced the technique of arresting dental decay with a Silver Fluoride solution, and this technique will become the foundation for the atraumatic and preventive approach of the ongoing program for school kids.
All the team members worked long and hard through the hot and sticky days, and were overwhelmed at times by the enthusiasm shown by local volunteers and field staff.  At times there were up to 20 people in the dental treatment room – a work flow chart would have been interesting.
The local dental team will continue with monthly dental camps (2 days at a time) in the schools in Mirpur, under the guidance of the NGO Forum for Public Health, Dr Sunny Dastagir, and the Rotary Club of Dhaka.
---