Temporary kitchens for safe cooking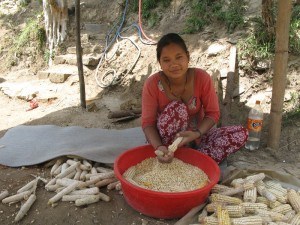 The village construction teams have been working enthusiastically during the hot days and dusty wind storms to complete the kitchen shelters for the village families.  Fatta, of toilet number 37, has come to the fore with his bamboo management skills.  The teams now benefit from the skills of both younger and older members.
The bundles of tin sheets are bought locally at Banepa where there is great competition to procure the sheets.  Prem Lama was on the spot one day, spotting a truck delivering supplies of the sheets in Raja Hardware's yard.  Within the hour bundles of sheets had been purchased and delivered to the top of the village where they were divided up among the families who carried them down to their house sites.
HH has been working with Bishnu Shrestha to adapt a cooking stove design from the engineering department of Kathmandu University.  This will further improve the capacity for safe cooking during the coming wet months.
---