Teeth and Toilets in Nepal Explore New Horizons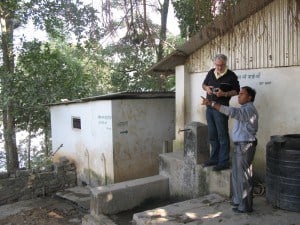 In December 2014 TT and Healthabitat worked with Mr Bishnu Shrestha to find the next community for the teeth and toilets program – now the Village Health Improvement Program.  The principal of Shree Jalapadevi School was very enthusiastic to improve conditions in his school.
The school is in a valley not far from the larger village of Melamchi.  There are 562 students, more than 50% are female.  Some of the female students receive scholarships to attend school.  These scholarships are provided by the Rural Health and Education Service Trust (RHEST) to help poor families resist girl trafficking which is unfortunately practised in many parts of Nepal.
---