Launch of Water for Walgett Kids program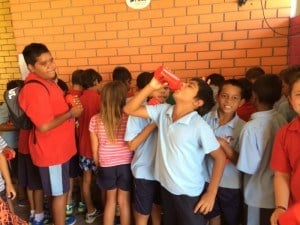 Water for Walgett Kids was launched at the Walgett Community College on 24 March 2015.  The water chiller has been in use since October 2014 and has been well used over the summer months.  The children received water bottles from the Walgett Aboriginal Medical Service, and we hope the Council will SOON turn on the Fluoride into the town water supply.
A water meter will monitor how much water is used, and check how it might vary across the year and seasons.
The WWK program was mainly funded by the Foundation for Rural and Regional Renewal, along with funds from the Rotary Club of Dee Why Warringah and Healthabitat.
We hope the kids will enjoy drinking the chilled water, which will have even more benefit once the water becomes fluoridated – especially for those kids who live out of town and don't get access to town water.
---